San Francisco Paper Shredding offers onsite shredding options throughout San Francisco. Also known as mobile shredding, onsite shredding brings the convenience and speed of an industrial shredder right to your curbside. Shredding trucks are totally self-contained, and can destroy in an hour what it would take you a month to shred with the average office shredder.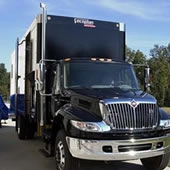 If you prefer (or need) to witness your documents being shredded, then onsite mobile shredding solutions are for you. Mobile shredding trucks are configured so that you can watch your materials being destroyed.
Mobile shredding is designed for companies or individuals that have a need for ongoing shredding service, need secure, witnessed shredding, or don't want to haul dozens of boxes to a drop-off center to be shredded.
If you need monthly service, locked bins can be delivered to your your San Francisco office, and shredding trucks will come by on a regular schedule and protect your important business data from identity thieves and corporate spies.
Here's How Onsite Shredding in San Francisco Works
STEP 1: You collect the papers, files, and documents that you need or want shredded in secure, locked bins.
STEP 2: All your items are shredded in a sealed compartment that's on the back of the truck. You can witness the entire process.
STEP 3: Once your documents have been shredded, you're given a Certificate of Destruction that details when and where the shredding was completed.
STEP 4: The shredded and compacted materials are recycled into new paper at a secure facility.
Get Free, No-Hassle Quotes on Document Shredding in San Francisco!
San Francisco Paper Shredding specializes in helping you find a reputable mobile shredding contractor for your business. To get started, just give us a call at (415) 413-0096, or request a FREE quote today.