With off site shredding, a shredding company comes to your location anywhere in San Francisco, picks up your files in locked containers, and takes them to a secure facility to be shredded. This process is compliant with Federal and California Privacy Laws- including FACTA and HIPAA.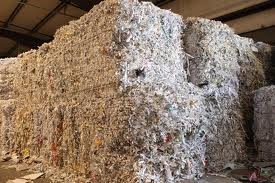 Off site shredding usually costs quite a bit less (depending on the volume of documents and paper you need to destroy) since you eliminate the costs of shredding your documents onsite.
This service still offers a high level of security- only authorized people are allowed to come in contact with the paper or even be at the San Francisco plant.
Uniformed security professionals transport your files in a locked truck, ensuring that there is no contact with your documents during transport. Upon arrival at the Northern California Plant, the bins are weighed, recorded, and staged to be shredded. All documents are dumped directly into the industrial shredder. which processes over 20,000 lbs per hour.
When the shredding is complete, we issue a a certificate of destruction that has the certified weight that assures that the material was shredded securely. Once papers are destroyed, they are compacted and sent to a paper mill where the material is turned into pulp and recycled into new paper products.
How Off Site Shredding in San Francisco Works
Place all your documents in secure, locked bins to be shredded
Security Professionals pick up your documents and transport them to the San Francisco facility in a secure truck.
The paper is weighed, shredded, baled, and recycled into new paper.
You are given a certificate of destruction to verify the paper was shredded securely.
It's really that easy. Get started today!
Get Free, No Obligation Quotes on Offsite Shredding in San Francisco Today!
San Francisco Paper Shredding provides free quotes on secure offsite shredding services throughout the Bay Area. Our contractors can pick up your documents and shred them securely for a reasonable price. To get no-obligation estimates for your project, fill out the form to the left, or give us a call at (415) 413-0096.